General Specifications of 1.3 Inch 240x240 13PIN SPI4 IPS 160nits
| | | |
| --- | --- | --- |
| No. | Item | Specification |
| 1 | LCD size | 1.3inch |
| 2 | Resolution | 240 (RGB)X240 |
| 3 | Display mode | Normally Black |
| 4 | Pixel pitch | 975(H)×975(V)mm |
| 5 | Active area | 23.4(H)×23.4(V)mm |
| 6 | Module size | 33.00(H)*33.00(V)*2.30(T)mm |
| 7 | Pixel arrangement | RGB-stripe |
| 8 | Interface | 4-line Serial interface |
| 9 | Viewing angle | 80/80/80/80 |
| 10 | Contrast ratio | 800:1 |
| 11 | Luminance | 300cd/m² |
Outline Dimension of 1.3 Inch 240x240 13PIN SPI4 IPS 160nits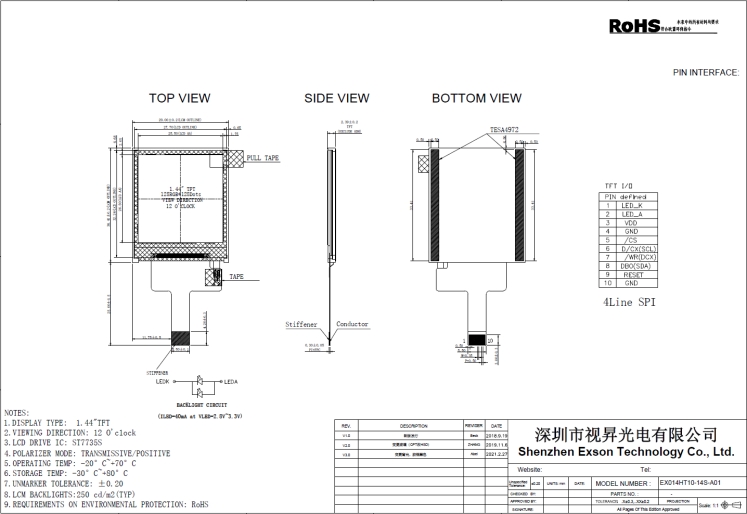 Advantages of 1.3 Inch TFT IPS 240x240 LCD Display Module
A 1.3-inch TFT IPS 240x240 LCD display module offers several advantages, making it a popular choice for various applications. Here are some of the key advantages:
Compact Size: The 1.3-inch display module is compact, making it suitable for devices with limited space. This is particularly advantageous in wearable devices, small gadgets, or any application where size constraints are a concern.

High Resolution: With a resolution of 240x240 pixels, the display provides clear and sharp images and text. This high resolution is beneficial for applications where detailed and crisp visuals are essential.

TFT (Thin-Film Transistor) Technology: TFT technology enables faster pixel response times and better image quality compared to traditional LCD displays. It is particularly advantageous for applications that require smooth video playback or dynamic content.

Energy Efficiency: TFT display modules are generally more energy-efficient than some other display technologies. The ability to produce bright and vivid colors while still being power-efficient is advantageous, especially in battery-powered devices.
Why Choose IPS 240x240 1.3 Inch LCD Display from Exson Tech
1. Quality and Performance
The 1.3 inch TFT LCD display module utilizes In-Plane Switching (IPS) technology, ensuring superior color reproduction, wider viewing angles, and excellent contrast. This results in a high-quality visual experience, making it ideal for applications where display performance is critical.
2. Customer Support and Warranty
Exson Tech is known for its responsive and customer-centric support. Choosing our IPS 240x240 1.3 inch LCD display module means access to timely and effective assistance in case of queries, concerns, or technical issues. The product comes with a comprehensive warranty, indicating Exson Tech's confidence in the durability and reliability of the display. This warranty coverage provides assurance and protection for customers.
3. Technical Support
Exson Tech ensures accessible technical support, crucial for users who may need guidance during the integration or encounter technical challenges. The availability of detailed technical documentation simplifies the integration process. Clear documentation of the 1.3 inch TFT LCD IPS 240x240 display module assists developers and engineers in maximizing the functionality of the display within their applications.
4. Manufacturer Reputation
Exson Tech enjoys a positive reputation within the industry, indicating a history of delivering reliable electronic components. Opting for this display aligns with a manufacturer known for quality and innovation. Positive reviews and testimonials from satisfied customers underscore Exson Tech's commitment to customer satisfaction.
Know More About Exson TFT LCD Display Modules & Accessories